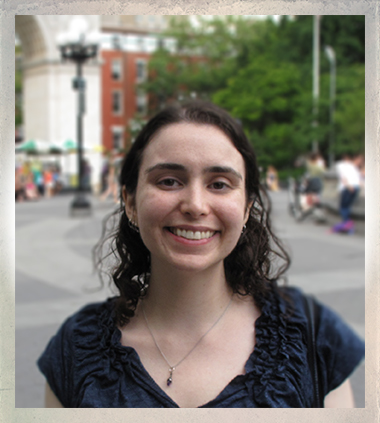 Lauren Cullen is a creative director and graphic designer, creating dynamic designs across all media. Her projects include websites, mobile apps, advertisements, branding, publications, posters, packaging, presentations, and more. She produces designs and user interfaces that develop and communicate concepts, implement effective marketing strategies, and provide meaningful consumer experiences.
 
Lauren is the graphic designer for UCLA's Office of Information Technology in the Mobile Web Strategy, Education & Research group, where she designs
 mobile apps and responsive websites for UCLA's academic and research communities
.
 
A graduate of Wesleyan University, Lauren also received the Advanced Web and Interaction Design Certificate from UCLA with honors.
 
Living in Los Angeles, Lauren enjoys playing music, creating art, and taking photographs.
 
Contact: lauren@laurencullen.com
I am very pleased to recommend Lauren Cullen as a designer, artist and writer. 
 
Lauren was my student at UCLA Extension - Visual Arts Program in Adobe Illustrator & Adobe Photoshop, and she excelled in her classes. As a student in class she was serious, thoughtful and always well-organized. 
 
I was so impressed by Lauren's capabilities that I asked the department to assign her as my teaching assistant. She has been my teaching assistant for the last 3 years and a huge help to the students during the classes. 
 
As an artist, Lauren's creativity is evident through her work, which is not only technically meticulous and well executed, but also well designed. Lauren is self-motivated, a team player, and easy to work with. As a person, she has the combination of a mature personality, creative ideas, and a sense of humor. 
 
As an artist, designer and consultant, I respect Lauren and would love to work with her at any time, and will continue to do so in the future. 
 
I recommend her for any design job. Any company that hires her will be lucky to have her on their team.
 
Chana Messer
Instructor, UCLA Extension
Artist, Designer, Software Evangelist, ACI/ACP/UGM, ChanaMesser.com


I first met Lauren Cullen when she trained me for a graphic art position at the Santa Barbara News-Press. She is an intelligent, creative, soft spoken graphic designer. She consistently came up with amazing designs that blow me away. Her brilliant creativity and intellect shown through with her ability to create eye-catching and memorable imagery. Besides her breathtaking designs, I found her to be an honest and reliable person who trained me with integrity, clarity, and an easy going sense of humor. Her technical knowledge and artistic intelligence is awe-inspiring. I whole heartedly recommend Lauren as a graphic designer. Anyone would be lucky to work with Lauren, I know I was.
Laura Dunphy
Graphic Designer, Santa Barbara News-Press
Professional Photographer, LauraDunphy.com

 
I strongly recommend Lauren Cullen.
 
I first met Lauren in 2010, and she has written and edited for me ever since. This includes writing the introduction of my book Drawing Attention, articles, press releases, information on my exhibits, and more.
 
An excellent writer and communicator, she can take what is in a conceptual artist's mind and put it into words so that the reader actually understands and is excited about understanding. She makes sense of it all and creates a mind-blowing reader's experience about the artist and creative process.
 
Lauren's exceptional writing reveals her deep knowledge of graphic design and visual art. Lauren draws from her creative experiences as a talented graphic designer, bringing an artist's perspective to her outstanding work. Her conceptual intelligence enables her to organize and develop ideas with remarkable versatility, artistic vision, and impressive results.
 
It is great fortune that we met, and I look forward to continuing to work with Lauren in the future. Anyone hiring her will be glad that they did.
 
John Van Hamersveld
Graphic Designer and Artist, JohnVanHamersveld.com

 
Lauren has done excellent work for us each time we've hired her. She does outstanding work, and is pleasant and professional as well. We'll continue to use her for all of our design needs.
Paul Hill
President, Job Search Intelligence

 
Lauren is a super conscientious worker, talented, and learns quickly. She is also a kind, easy-going, and considerate person, which made her a pleasure to work with.
Lauren worked with me as a graphic designer at Santa Barbara Promotions, where we produced printed inserts for clients such as Chevron, BP Oil, Sports Authority, and many others. I found her calm and steady work habits very helpful, especially when we had tight deadlines to make.
Anyone would be pleased to have Lauren on their team.
Chris Henry
Art Director, Santa Barbara Promotions
Professional Photographer, ChrisHenryPhotography.us

 
Lauren was recommended by a close business associate as being diligent, versatile and responsive. Her work has been high quality and she has been a pleasure to interact with on a regular basis.
In the area of print and web-based graphics, I would highly recommend Lauren as a freelance designer and/or creative director.
Ike Chang
Co-Founder and Business Manager, Tronic Helmet


Lauren is an incredible talent and with the ability to give a new approach to the way we communicate, outside the box while still maintaining a keen eye on the trend of the moment.
 
Where is the teamwork to lead to complex results she is definitely a boost and encouragement to the team.
 
For any kind of idea you want to develop, I fully recommend her.
 
Gaetano Giordano
Creative Director, Giordano Designer


Lauren is a creative and passionate graphic designer. Her positive, can-do attitude makes projects run smoothly and enjoyably in a collaborative environment. Lauren's friendly nature makes it super easy to work with her. Lauren is a very talented artist with writing and marketing skills. I definitely recommend her.
 
Sharon Sachse
Front-end Drupal Developer, LA ACM SIGGRAPH

 
It is a genuine pleasure and honor to recommend Lauren Cullen.
 
Lauren started being our Graphic Designer over a year ago. She designs fantastic menus, logos, newspaper ads, coupons and more for us. It is great working with her.
 
Her work has increased our business. She has brilliant ideas. She is very efficient, dependable and organized. She listens carefully to what we need and makes it happen for us. This is how our current menus came about. Under time constraints, Lauren created menus that were just what we were looking for. She gets the details right and produces great results.
 
I highly recommend Lauren. I am confident you too will enjoy working with her and will benefit very much from her great abilities.
 
Rajesh Tehlan
Manager, All India Cafe Santa Barbara


I highly recommend Lauren Cullen as a web designer.
 
I have never had a web site before for my Psychotherapy practice and I was nervous about how to get started but Lauren was so unbelievably sweet that she put my fears at ease immediately. She helped me through every step with patience and grace. The site looks just like what I wanted and it is a pleasure to work with Lauren.
 
I am very happy with how my site turned out. I look forward to working with Lauren again.
 
Kymberlee Ruff, MFT
Licensed Psychotherapist, Santa Barbara


Lauren is very detailed oriented & efficient. As an employee, she is worth her weight in gold.
 
Sharon Moore
Pre-Press Manager, Santa Barbara News-Press


Lauren is a very detailed oriented, talented and accessible person and the best graphic designer I've worked with over the past 10 years. She'll be an excellent addition to any design/sales team!
 
Bruce Schumikowski
National Advertising Sales Manager, Santa Barbara News-Press

 
Lauren is a very talented graphic designer. Not only is her work superb, people love working with her because she is smart, dependable, and resourceful. She is one of the best graphic designers I have worked with and would be a great asset to any company she works for.
 
Wendy McGonagle
Account Executive, Santa Barbara News-Press

 
Lauren is a very nice and efficient person. Lauren was responsible for building/creating my customers' advertisements within strict daily deadlines, she consistently exceeded my expectations. I'm confident that Lauren will be a great asset to the companies that hire her.
 
Alex Orozco
Classified Advertising Inside Sales, Santa Barbara News-Press

 
Lauren's informative graphic design articles are great for the community. Her articles spread quickly online, generating a lot of attention and excitement. Lauren possesses a deep knowledge of graphic design as well as excellent writing, communication and marketing skills. I highly recommend her.
 
Daniel Kramer
Owner, DK Interactive Design


When Lauren Cullen was a student I was impressed with her commitment to learning, her dedication to quality in her work, and her willingness to help others. Now that she is responsible for training others I'm also impressed with her knowledge and patience. Along with her excellent design skills these traits make Lauren Cullen a great addition to any design team.
Bryan Balocca
Lab Manager, UCLA Extension

 
Lauren was a very adept student and has an amazing potential. It was easy for her to grasp concepts that puzzled many other students, and she regularly put these concepts to use in manners that were completely unexpected and refreshing. She was very thorough, never missing even the most minute detail, always prompt, and engaged eagerly. I was proud to have her as a student in both of the classes I taught.
 
Daniel Cluff 
Flash I and Flash Platform II Instructor, UCLA Extension


It is with great pleasure that I write this letter of recommendation for Lauren Cullen.
 
Lauren was a student in my Architecture I course. Throughout the semester, Lauren's work was consistently among the best in the class. Her strong design concepts were always accompanied by provocative drawings and beautifully crafted models. It was evident that for her the process of design was not a rushed one, but instead one of careful consideration and rigorous investigation. Lauren also brought to class exemplary self-motivation. She always displayed an admirable ability at remaining focused on her work; it was very apparent that she truly enjoyed designing, drawing and creating things.
 
It is important to note that in addition to her artistic and intellectual strength, Lauren is very personable, open-minded, and mature. I am confident that Lauren will bring the highest level of professionalism to the workplace.
 
Martha Anez
Assistant Professor, Art and Art History Department, Wesleyan University


It is my pleasure to recommend Lauren Cullen for a position within your organization.
 
Lauren enrolled in my advanced seminar on persuasion and social influence here at Wesleyan University. I have found Lauren to be a very intelligent, mature, conscientious, and hard-working individual.
 
In all respects, Lauren was an excellent student and received a well-deserved "A" in my class. Her contributions to the class were always constructive and reflected her deep understanding of the material. In addition, her written assignments demonstrated a high degree of organization and clarity of expression.
 
I have every confidence that Lauren possesses the requisite skills and motivation to excel in any position. I recommend her to you without compunction.
 
Francine Rosselli, Ph.D.
Visiting Assistant Professor, Department of Psychology, Wesleyan University